Click Here for View of New Paintings


"Up-River Geese - Oil on Canvas, Cambridge 26,5 x 22.5 height

"Out of Town News", Harvard Square, Cambridge, MA

"Anderson & Myrtle Street " Oil Canvas 32 x 38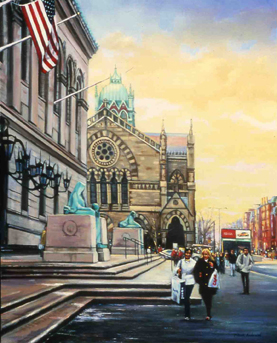 "The Boston Public Library"
A View of wing of The old South Church on the background, facing Dartmouth Street Boston, MA


Patrick Anderson was traditionally trained, works in oils and canvas.
He has a magnificent and unique approach to capturing light in his body of work,
leaving the viewer breathless.
Patrick Anderson | Beacon Hill, Boston, MA 02108 | Tel: 857-222-4137
All prices for paintings on this site are net to artist only. Gallery comissions and taxes are extra.
Local Boston painter, traditional oil paintings. fine art paintings, cityscapes resembling Beacon Hill.
Can call for interview.

All images © 2002-present, by Patrick Anderson